The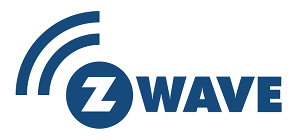 protocol is an interoperable, wireless, RF-based communications technology designed specifically for control, monitoring and status reading applications in residential and light commercial environments. Mature, proven and broadly deployed (with over 40 million products sold worldwide), Z-Wave is by far the world market leader in wireless control, bringing affordable, reliable and easy-to-use 'smart' products to many millions of people in every aspect of daily life.
For a more complete look at Z-Wave technology for non technologists, and to learn more about Z-Wave's role as a key enabling technology for the Internet of Things and connected objects, please visit www.z-wave.com.
Low Powered RF communications technology that supports full mesh networks without the need for a coordinator node

Operates in the sub-1GHz band; impervious to interference from Wi-Fi and other wireless technologies in the 2.4-GHz range (Bluetooth, ZigBee, etc.)

Designed specifically for control and status apps, supports data rates of up to 100kbps, with AES128 encryption, IPV6, and multi-channel operation

The Z-Wave PHY and MAC layers are defined by ITU-T Recommendation G.9959.

The frequencies used by Z-Wave are listed in Z-Wave Alliance Recommendation ZAD12837, "Z-Wave transceivers - Specification of Spectrum Related Components"

Full interoperability through layer 6 with backwards compatibility to all versions.

Successfully bridged and trialed with OpenADR, SEP 1, SEP 1.1 and other Smart Energy protocols.

Shares the same position in the NIST / SGIP Catalog of Standards as the IEEE 802.11 and 802.15 and 802.16 families

For more in-depth technical materials on Z-Wave, please visit our Developer Section, or consider membership in the Z-Wave Alliance.
Over 1350 interoperable products available, 35 million Z-Wave products worldwide.

Extensively used in residential systems throughout numerous business spectrums, including ADT, Alarm.com, AT&T, DSC, GE/Interlogics, Honeywell, Lowes, Verizon, Vivint, and other prominent service providers worldwide.

Found in thousands of hotels, cruise ships, and vacation rentals; including 65,000 devices in the flagship Wynn Hotel in Las Vegas, NV.

Actively supported by over 325 manufacturers and service providers throughout the world.

Designed specifically for control, monitoring and status operations; no interference from Wi-Fi or other 2.4GHz wireless technologies in similar band.
We typically think about Z-Wave in terms of scenarios that consumers will benefit from and then we help our customers provide solutions. The most common use cases are:
Remote Home Security/Monitoring
Within each of these scenarios consumers can use one app on their tablet or smart phone to control a number of devices at once.
For example, for someone using Z-Wave to secure their home they can create, what we call, a "scene". This scene could be called "Secure home – away" for example. It would be created to shut the house down and secure it when going out. Once the consumer swipes the scene a series of activities can be activated to do things like turn off all the lights, lock all the doors and windows and activate alerts if someone opens the door.
Another one of Z-Wave's consumer benefits is saving energy. With Z-Wave in the home consumers can easily manage and monitor their power consumption from their phone. A scene that can be used in combination with all of the above-mentioned security features could include turning off all the lights in the house, remote access to adjust the thermostat, powering down all A/V and computer equipment upon exiting the house. With Z-Wave powered shade controls, consumers can even open and close the shades to keep the house temperate.
Because Z-Wave is interoperable, Z-Wave networks can be created one device at a time. Starter kits are a helpful way to get Z-Wave into the home and over time more functionality can be added simply by increasing the number of devices in the network.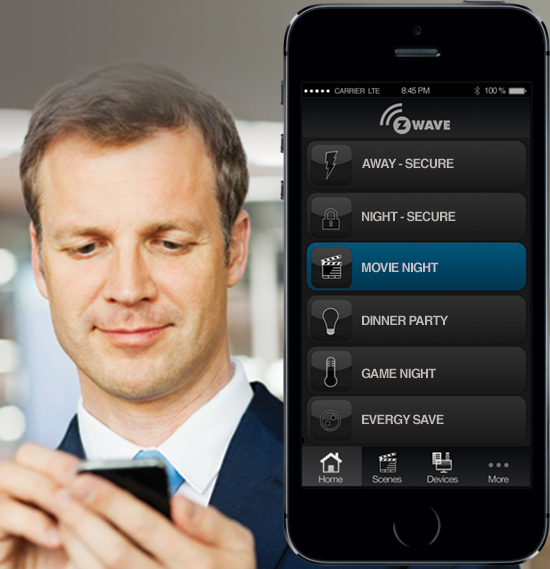 Albania, Andorra, Argentina, Aruba, Australia, Austria, Azerbaijan

Bahamas, Barbados, Belarus, Belgium, Bermuda, Bolivia, Bosnia and Herzegovina, Brazil, British Virgin Islands, Bulgaria

Canada, Cayman Islands, Chile, China, Columbia, Costa Rica, Croatia, Cyprus, Czech Republic

Ecuador, El Salvador, Estonia

Finland, France, French Guiana

Germany, Greece, Guatemala

Haiti, Honduras, Hong Kong, Hungary

Iceland, India, Ireland, Israel, Italy
Latvia, Liechtenstein, Lithuania, Luxembourg

Macedonia, Malaysia, Malta, Mexico, Moldova, Monaco, Montenegro

Netherlands, New Zealand, Nicaragua, Norway

Panama, Paraguay, Peru, Poland, Portugal

Romania, Russian Federation

San Marino, Serbia, Singapore, Slovakia, Slovenia, South Africa, South Korea, Spain, St. Kitts & Nevis, Sweden, Switzerland, Suriname

Taiwan, Trinidad & Tabago, Turkey, Turks & Caicos

Ukraine, United Arab Emirates, United Kingdom, United States, Uruguay